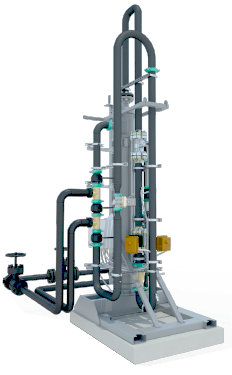 NeoTek Energy has developed the revolutionary Wellhead Fluid Analyzer (WFA) for continuous, real-time measurement of production fluids, pressures, temperatures and flow rates. Powered by both NeoTek's DirectRead® technology and other NeoTek Energy custom designed sensors, the WFA accurately measures the density, flow rate, temperature and pressure of well production on a continuous basis.
In the near future, the DirectRead® Chemical Sensors will be able to differentiate hydrocarbons on a molecular basis in real time. No more guessing, no more allocations, no more reactive management.
All this data is managed by NeoTek Energy's Cognizance® Enterprise Software that takes the complicated and simplifies the intelligence.
DirectRead® Chemical Sensor
NeoTek Energy's DirectRead® Sensor Technology can measure different chemical molecules in real time. Through the innovation of NeoTek Energy's developmental laboratories, we can now match specific sensors to corresponding hydrocarbon molecules by measuring the changes in electrical properties as the well production passes over the sensors.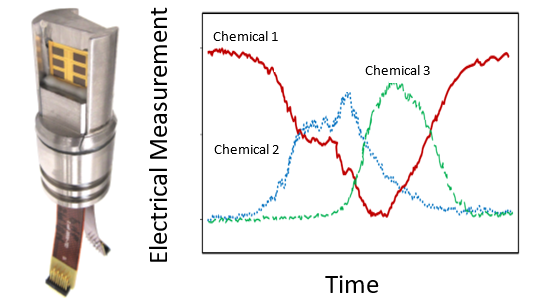 Customized Physical Sensors
NeoTek Energy's newest Wellhead Fluid Analyzer (WFA) now measures oil, water, and gas flow rates as well as pressure, temperature, multiphase density and NaCl equivalency (saline). Utilizing a custom-built RF Water Cut Meter, Densitometer, a Conductivity Meter, Differential Pressure Flow Meter, and a Vortex Gas Flow Meter, NeoTek Energy's WFA can now handle different flow volumes, flow regimes and varying levels of gas/liquid measurements. The WFA is especially effective in high GOR/Low Oil-Cut environments.
Cognizance® Enterprise Software
Utilizing an intuitive, customizable dashboard, Cognizance® analyzes, organizes and reports actionable intelligence enabling timely, effective decisions. Web-based and accessible by computer, smartphone, and tablet, our customers have easy access to reservoir and individual well analytics, including alerts based on customer-defined rules, at the office or in the field.
The Future of Multiphase Metering
By the end of the year, NeoTek Energy expects to be able to quantify the hydrocarbon content flowing from the wellbore which will allow operators to know what zone/frac stage is producing which hydrocarbons. NeoTek Energy has been successful in the laboratory in identifying heavy oil from lighter oil as well as specific salinity changes (covalent versus monovalent bonds).
Being able to measure changes in salinity will help operators to better understand when scaling is occurring in the wellbore.